Photo by Fotolux
Bad Bad Maria Manifesto
Love, Honesty, Freedom, Equity, Aesthetics, Design, Humility, Joy

I grew up in a small village about an hour from Lisbon. My childhood was not very happy and my youth
was bound to beliefs and customs that I don't see as mine. Maybe that is why I feel such a great love for
difference and freedom. For me, freedom has always been one of the greatest assets. The love for
people also grew early in me, thus I dedicated myself to teaching and fell in love with travel and Africa. I
never wander much about Macao, it was destiny that brought us together, and although it is the
greatest love-hate relationship, I am immensely grateful for everything that has brought to me so far! I
think it was Macao that accentuated my likeness for being different. In a place where respecting othersis worth little and where the behavior is also the same, it was easy to be different. While I was teaching primary students at the Macau Portuguese School, I went to Mozambique for some months on a volunteer program, this made me remember my first year of teaching in Angola, but this time I had a mission, as I always dreamed. I returned to Macau, and two years after, with a 10-year career on education, I thought it was time to start a new dream: Bad Bad Maria. It started as a Parties and Crafts company, but always with the aim on the weddings.
By destiny, in 2017, Bad Bad Maria arrived in Lisbon, and one of the greatest adventures of my life began. Besides dedicating myself to weddings, I also invested in a blog completely dedicated to alternative weddings. This came with a new mission: showing that a wedding is not an institution, but a celebration where we gather all the ones that are dear to us and together celebrate the loves of our lives, without protocol, without established rules – just being whatever the couple wishes it to be, a celebration that is an extension of their personalities and lives. When someone asks me what an alternative wedding is, I reply: it's whatever you want. For me, a wedding rundown of church, photos, farm, party, doesn't make much sense anymore; as I always have the feeling one repeats this format not because of each beliefs, but just because is how everyone does it. It also happens because there isn't enough know-how, sharing, or just don't know how to customize, create and make something tailor-made.
Regardless of body, age, race or nationality, there are too many standards for these aspects. Perhaps, magazines, blogs and standards of perfect are at fault and out of touch with nowadays reality of men and women of our global world! It is necessary to give meaning to the human being and to his uniqueness, whatever it may be, wherever it goes! We want real people, with real bodies, and real stories. People with flaws and their beautiful love and passion stories. That is the reality, that is the world and that is what Bad Bad Maria wants to talk about.
Living abroad for 12 years also makes me believe in another assumption, the adoration of Portugal, not only as a destination wedding, but as a place to appreciate and realize that it is not perfect, but it is beautiful; and it has wonderful sites and countless high quality weddings' suppliers. From this assumption of cherish also arises my desire to train or teach, bring or talk to specialists from different areas so that we all can learn and, especially, be inspired.
One of our goals, is to provide a list of creative services, so that the bride and groom can check and choose who they want to hire to build what they dreamt of.
To inspire is one of my greatest missions through the podcasts. I love storytelling, and this is my gift, to give you these stories because I believe everyone has something to tell, learn and teach, whether they are people related to alternative weddings or not. There are a lot of people with twenty or thirty years experience in weddings that can share and teach so much.
Communication could be my middle name, because ever since I remember, I love people, talking to them, especially if the subject is close to my heart and makes me travel to my world. Entering the Happiness Industry, materialized in the form of wedding parties, has been the discovery of a new world, of unique beauty, since there is nothing more beautiful than happiness: sharing the happiness, whether it is the bride and groom's one, ours or the one that we present them with!
It's a blessing to work in this industry making the couple's dreams come true, with you always by my side!
Cátia Silva, mentor and manager of Bad Bad Maria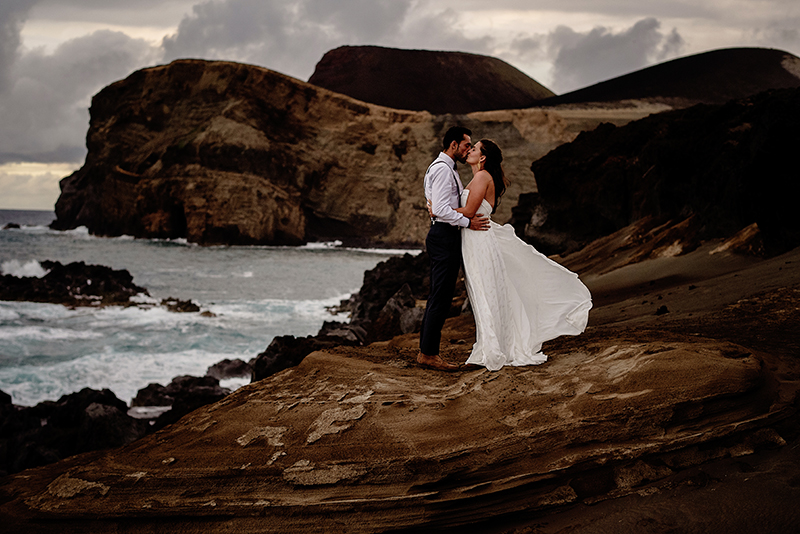 Photo by Pedro Vilela Photography
How Bad Bad Maria came to be?
Bad, bad Maria, the cat is meowing already! This is a well known Portuguese idiomatic expression, although the origin of its meaning is not exactly known. It can be used in a funny way to alert children who are misbehaving. This was chosen because is so Portuguese, and also because the women in Cátia's life have the name "Maria"... Bad Bad Maria organizes parties, weddings and is full of good surprises. Cátia thus gave a new meaning to this expression, making it more sweet, joyful and surprising!
In the Press...
In the Press...

Bad Bad Maria na Sic Mulher no Programa Faz Sentido de Ana Rita Clara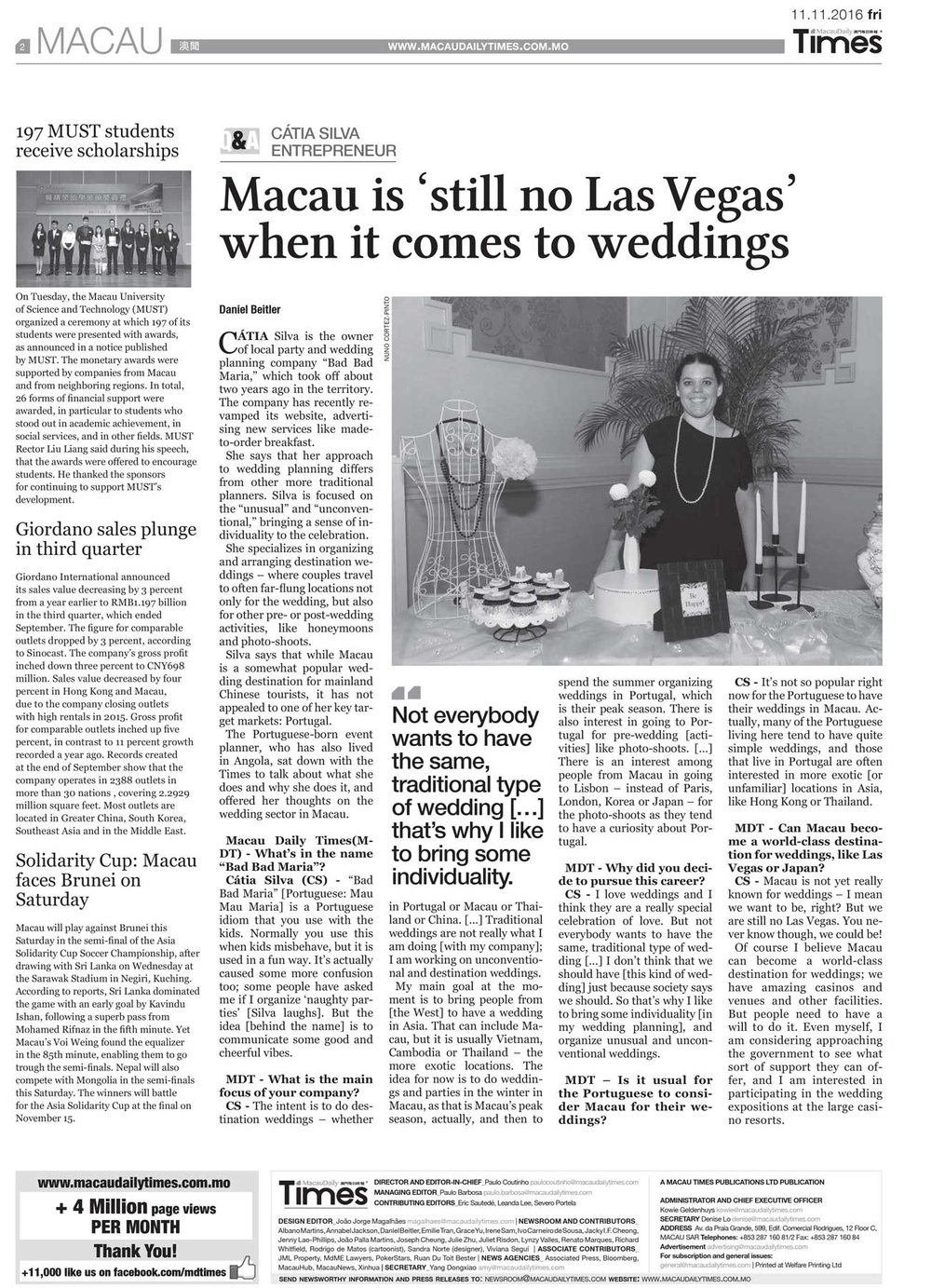 Macau Daily Times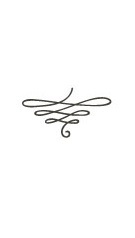 Testimonials
Karen Sharken Blau
Great view, organised, and very efficient. She'll surprise you with both quality and creativity! Even though my friend and I are quite picky, she gave us exactly what we asked for, and even exceeded our expectations. The aesthetics will make you salivate...and it makes you look forward to your next birthday party or event ;)
Sonhos de Canela
Adorei tudo o que prepararam para este dia tão especial. Foi tão bom poder deixar todos os pormenores com quem sabe e poder aproveitar bem todos os momentos, sem preocupações.
Obrigada, Cátia, pela ajuda e pelo carinho!
Mandy Ao Ieong
我只想講,那天我所有朋友看到你所準備的食物及裝飾都感到驚喜及喜愛。而你在我女兒房間為小朋友所準備的更令各小朋友興奮不已 我最喜歡你對細節都一絲不苟。你所準備的食物亦有高水準當然當晚最感動的是Stephen Thanks again
Stuart Roberts
I recently had the breakfast menu, great food and choice. Plenty of food for everyone and wonderful value for money. I would recommend for any occasion. Great service. I will be defo using again.
Paula Cristina da Costa
Muito profissional, muita paixão pelo que faz e muita originalidade. Adoro os pequenos pormenores. Recomendo vivamente!
Rita Gonçalves
Cheerful, sunny, fun, and of a simple elegance - BBM thank you for making my wedding/baby shower/parent's 60's party exceptional moments. I strongly recommend BBM's services; Cátia and her team take care of all the details, and help you give shape to the ideas you might have for a certain event. There's not much happening in Macau so it's nice to have the chance of making your special moments with your friends and family even more fun and memorable! BBM ♥