Ten castles for a destination wedding in Portugal
July 24, 2019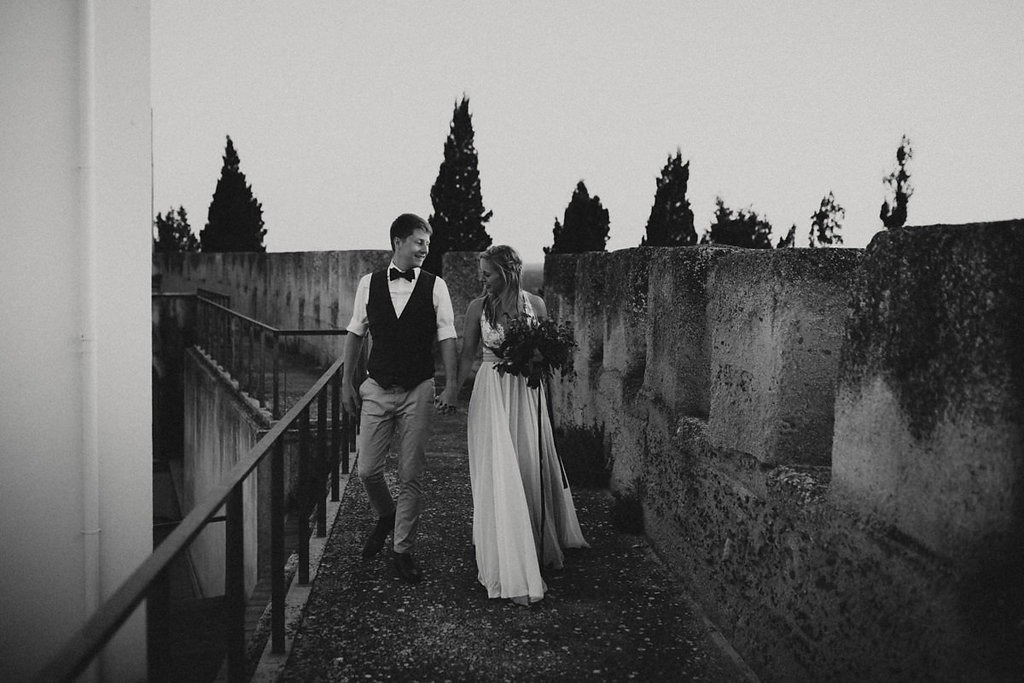 Photo: Look Imaginary / Palmela Castle
Text: Sandra M Gomes
When you think about getting married, you want a unique day, in a different and special place. There are many historic monuments from north to south of Portugal, which may recreate the perfect atmosphere for your wedding celebration.
PLEASE NOTE: Given the cultural, patrimonial and preservation of identity, architecture and mission of each castle, palace, monastery or convent, it will not always be possible to carry out your wedding ceremony in some of your dream venue.
But it's always worth a try!
In this article we have searched ( a lot) and found romantic places in Portugal, which transport us to other eras in history. They are available to host events from north to south of Portugal.
There are always greater restrictions on licensing social events, such as weddings, but do not give up. Ask your portuguese wedding planner to present and explain very well the wedding project to the directors or managers of each historic venue.
We present ten wonderful castles (and contacts) great for exchange your vows and live a memorable wedding day in Portugal.
* subject to case-by-case analysis and approval by the responsible entities.
** List in progress **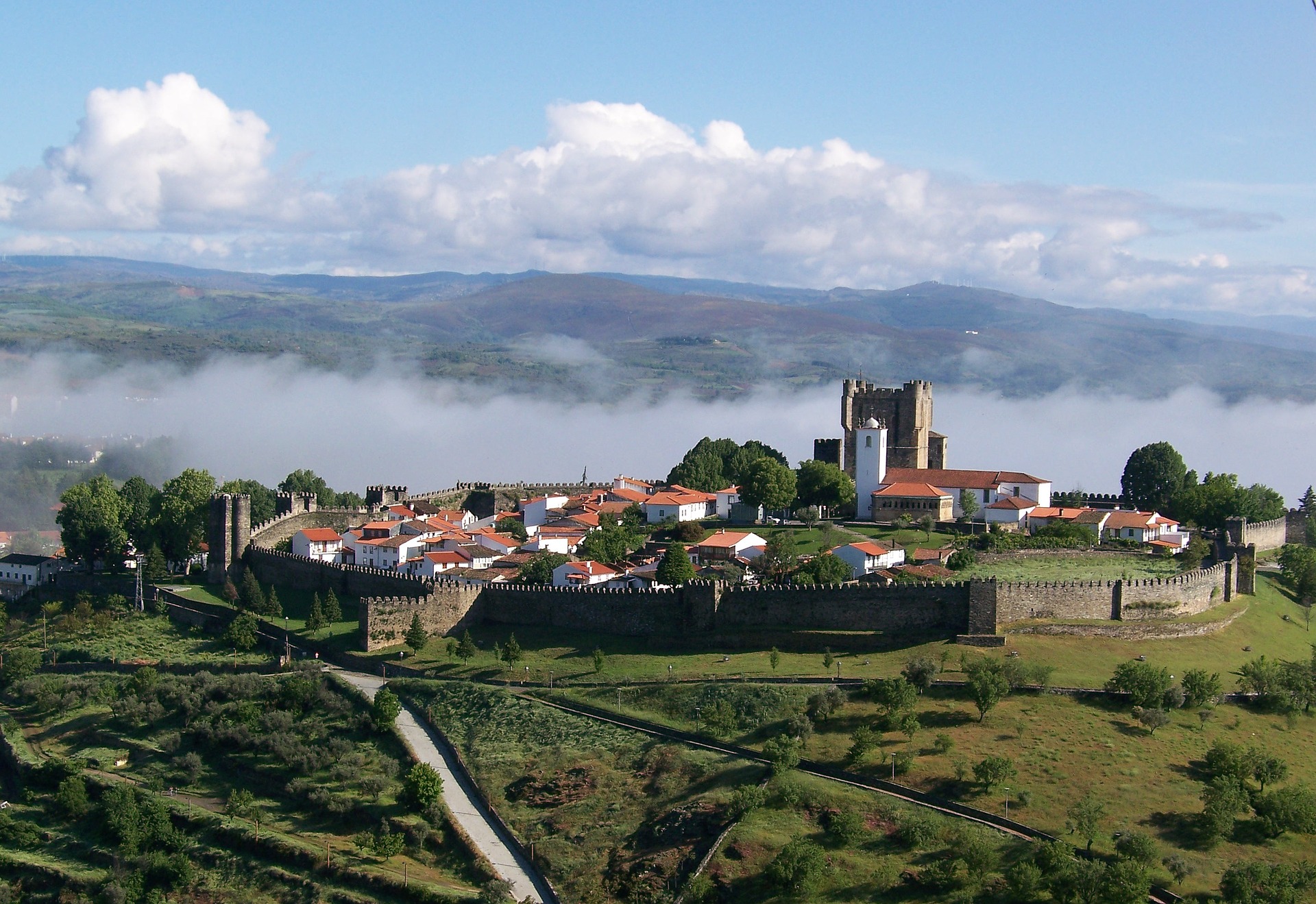 Photo: Jacqueline Macou
Castle of Bragança
At 1h30 in Zamora and 3h00 in Vigo, Spain; 2:30 p.m. in Porto and 5:30 p.m. in Lisbon, Portugal. With connection via domestic flight by SevenAir *
The Castle of Bragança was built in the 13th century in the city of Bragança, having a village surrounded by the anciente wall. It is localized In the extreme north-east of Portugal, in Trás-os-Montes, near the Spanish border. This castle has a love legend, similar to many others of those times, and says that the Tower of the Princess has been the prison of a Christian princess, prohibited from marrying an illustrious Moor.
This venue houses the Military Museum of Bragança, and therefore has limited use for other events. However, the Museum director showed openness to analyze requests that are sent to the email musmilbraganca [@] mail.exercito.pt
In this region, summer is often quite dry and hot, so it will be wiser to choose a more enjoyable season for your wedding, such as spring.
* Cascais-Bragança Seven Air Airline: only 18 passengers; Flights with stopover. Duration of the trip - 2h30; Restricted schedule; You can request a charter flight. Contact: bookings@sevenair.com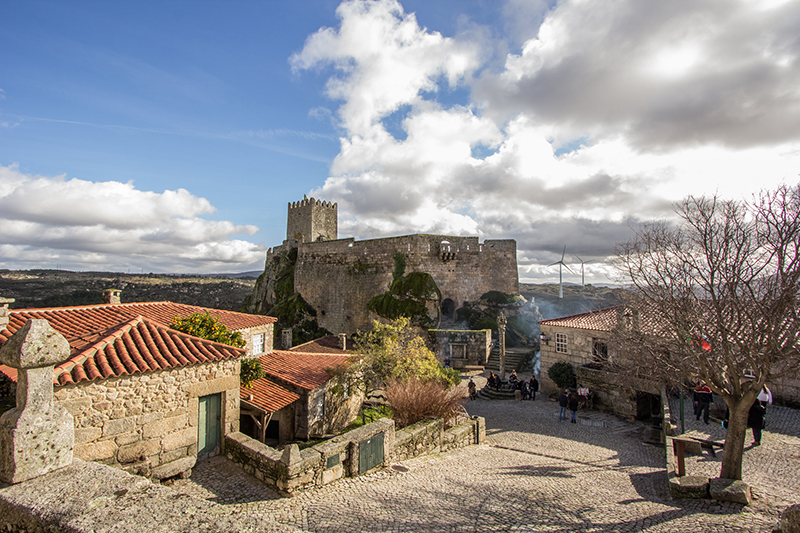 Photo: Gazeta Rural
Castle of Sortelha – Sabugal – Guarda
About 3 hours from Oporto, just over 60km from the border with Spain.
Sortelha is an old medieval village, small, closed by an oval wall and with the castle at the top. This is one of the best preserved villages, with a secular atmosphere which lead us to the past, through its peculiar streets and alleys.
The village and castle are located in the interior of Portugal, being therefore a calm place, with landscapes to lose of sight, granite houses, welcoming people. Pay a visit to the village, to see the nooks and crannies, and fall in love with it.
It is possible to hold your wedding or elopment in the castle or surrounding area. Contact the City Council of Sabugal: 271 751 040
Extra: Sabugal also has a castle. Request information to the municipality of Sabugal.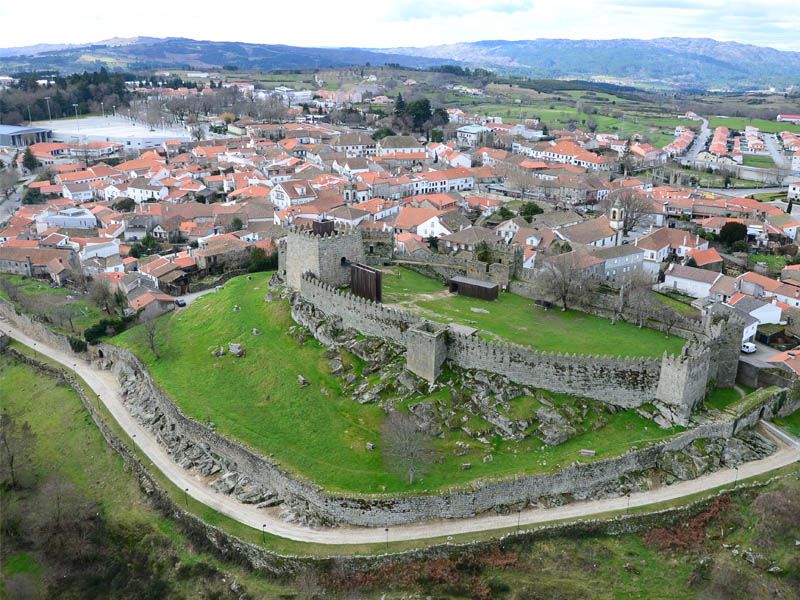 Image: e-cultura.pt
Castle of Trancoso (Guarda)
About 2h20m from Porto, 1h00 from the Spanish border.
The medieval castle of Trancoso is set in the heart of Trancoso city. This village is an example of gothic urbanism in Portugal and is surrounded by an old wall. The village is part of the Historical Villages of Portugal. It's the perfect setting for your destination wedding ceremony and wedding photo shoots inside or outside the castle. The castle is well maintained both on the outside and inside. Inside has a large wide ground floor area and a tower with a fantastic view.
This castle has as well the good energies of marriage, because the history says that D. Dinis, the sixth king of Portugal, held his wedding ceremony with D. Isabel de Aragon, called the holy queen, in this castle.
The Municipality of Trancoso manages the castle. We have the confirmation that the venue can be used for events, but under some conditions such as:
The ceremony takes place when it is open to the public;
The use of the venue will not be exclusive, even at the time of the wedding ceremony with or without guests, and for wedding photo shoot.
Make a request to Trancoso City Council in advance for consideration: www.cm-trancoso.pt | Phone +351 271 829 120/121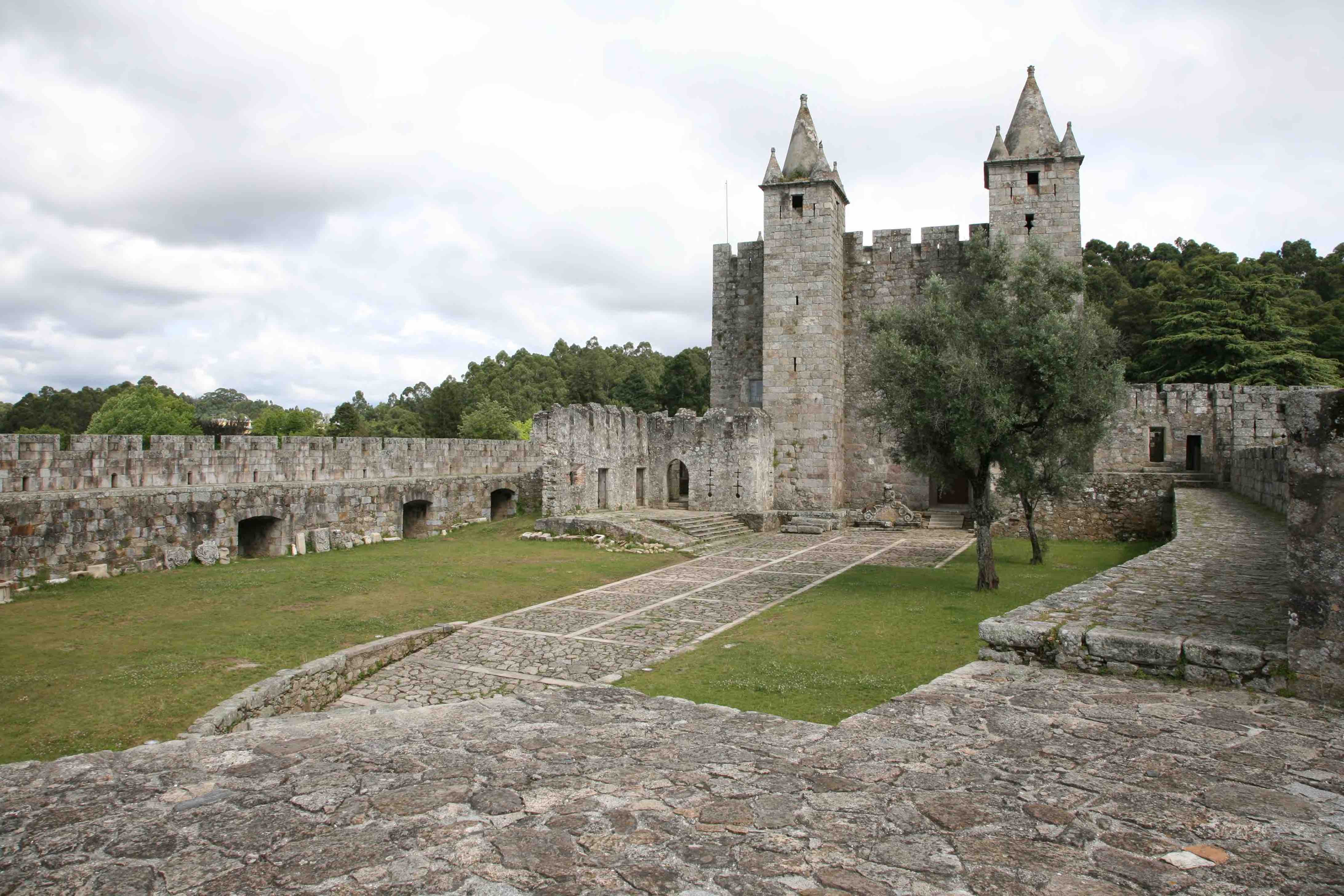 Photo: Comissão de Vigilância do Castelo de Santa Maria da Feira
Castle of Santa Maria da Feira - Aveiro
About 30 minutes from Porto
The Castle of Santa Maria da Feira is a remarkable example of medieval architecture in Portugal. It is in great condition, has a large interior garden area and has spaces that can be used for events, including weddings. Wedding ceremonies can be held in the exterior areas of the castle, called the Praça de Armas and wedding dinners in the noble hall (maximum 90 people seated). If you like you may choose to organize a fully medieval ceremony, with the proper costumes.
Due to its regular programme, in December and the first half of August there are restrictions on its use for weddings.
For detailed information regarding the venues' conditions and reservation contact the Comissão de Vigilância do Castelo de Santa Maria da Feira: +351 256 374 608 castelosantamariafeira@gmail.com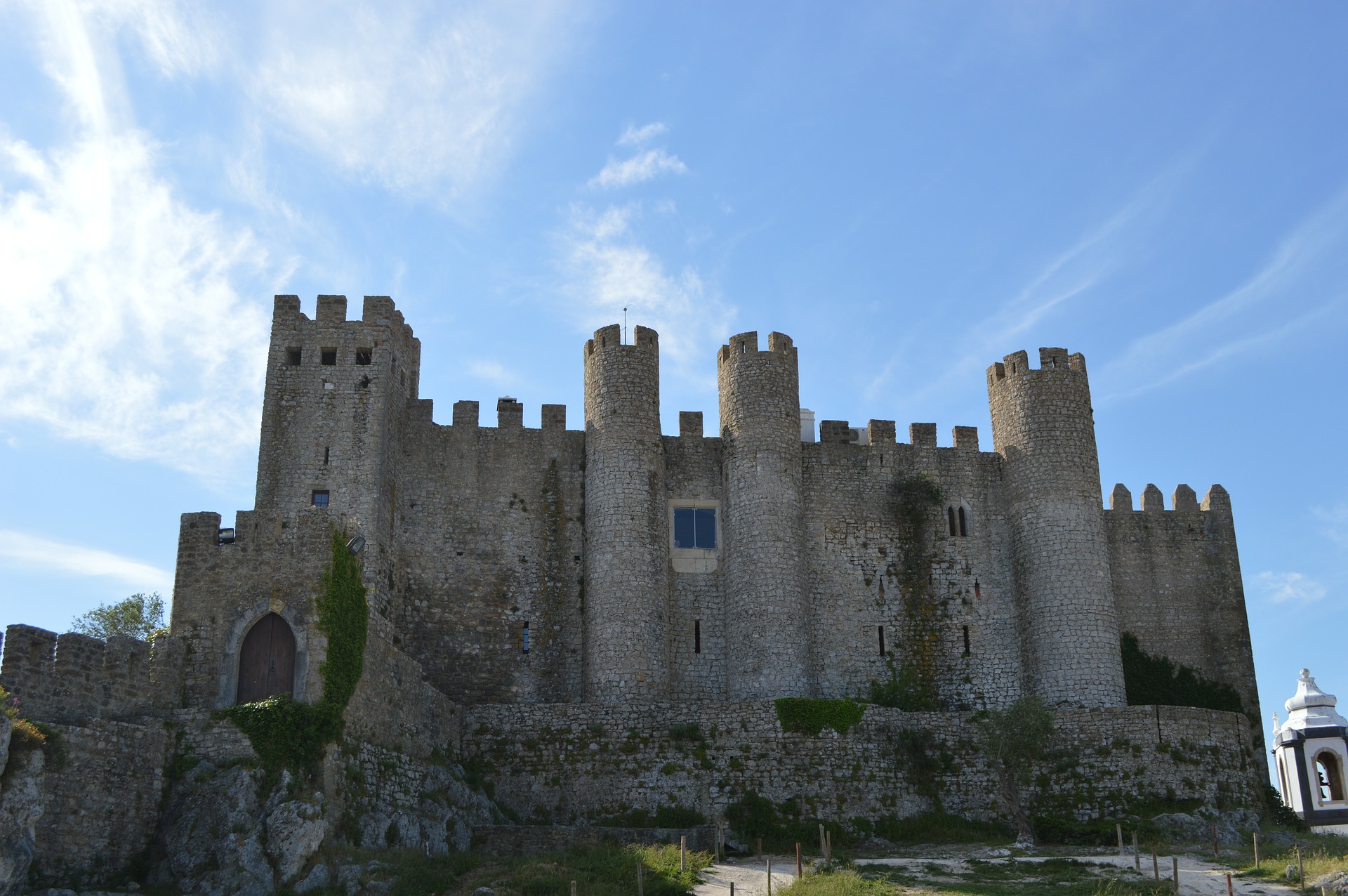 Photo: Titosoft
Castle of Obidos - Caldas da Rainha - Leiria
About 1hour distance from Lisbon
Óbidos is a very picturesque medieval village. Within the walls there are the castle, streets, alleys and typical houses that make this village an authentic tourist postcard. Due to its unique characteristics, it is a very dynamic village that attracts many visitors.
In the castle there's an Hotel: Pousada do Castelo. If you wish to hold your wedding ceremony here, just contact them: +351 262 955 080
Alternatively, there is an outdoor space, outside the castle, called Cerca do Castelo, where are held the great events of the village.
To present your project to obtain authorization to perform the wedding in this place you must contact the municipal company ÓbidosCriativa E.M. through the email obidoscriativa@cm-obidos.pt or telephone +351 262 955 561.
If you need extra information, contact the Óbidos tourist office, whose team is quite ready to respond.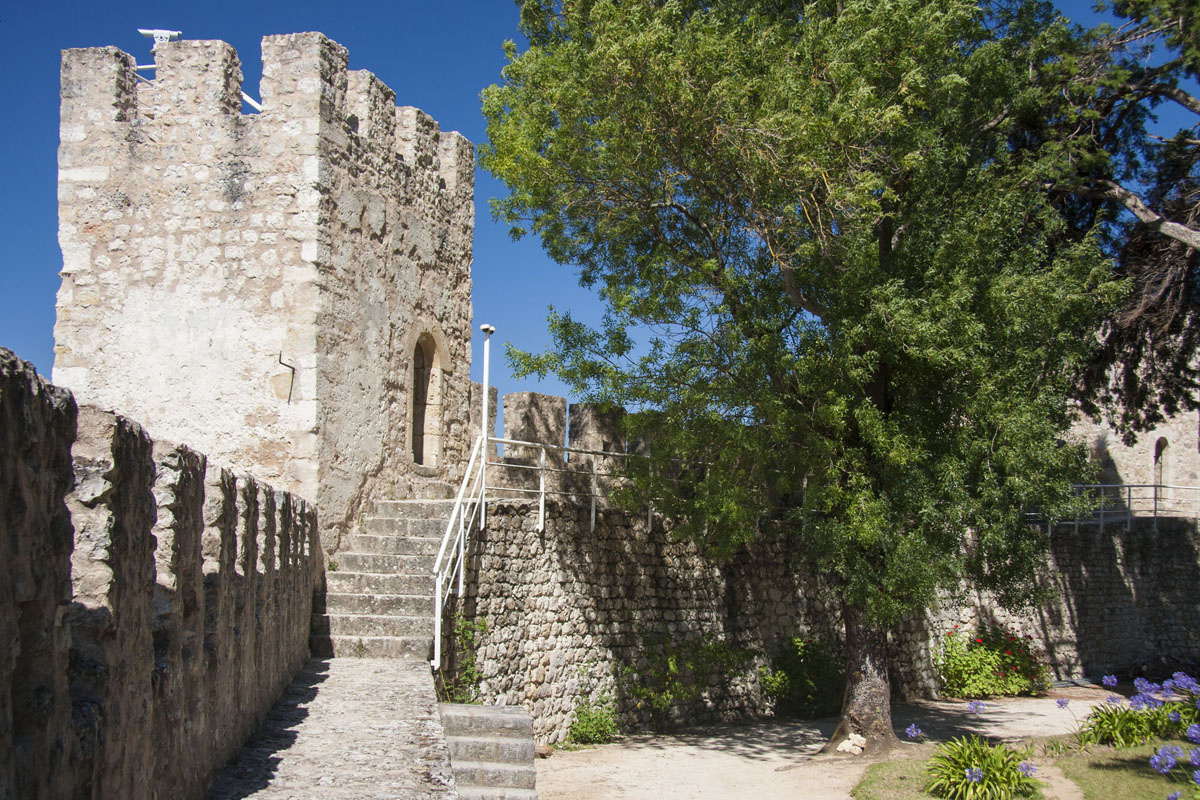 Photo: Turismo do Médio Tejo
Castle of Torres Novas - Santarém
About 1h30 from Lisbon
Torres Novas Castle is located in the district of Santarém, a few kilometers from Entroncamento and about 1h30 away from Lisbon. This historic monument of national interest is very well preserved and has a walled enclosure with eleven towers, and a well-kept garden. The interior of the castle and garden are of free admission, but in case you want to organize your wedding ceremony at ths venue we advise you to contact the municipality of Torres Novas for authorization.
Part of the castle is the Alcaidaria room (14th century) which is available for rent for weddings. The fees are charged per hour and has a different cost whether is a ceremony during the week or on Sundays and holidays. For further information: Torres Novas Tourist Office +351 249 813 019 turismo@cm-torresnovas.pt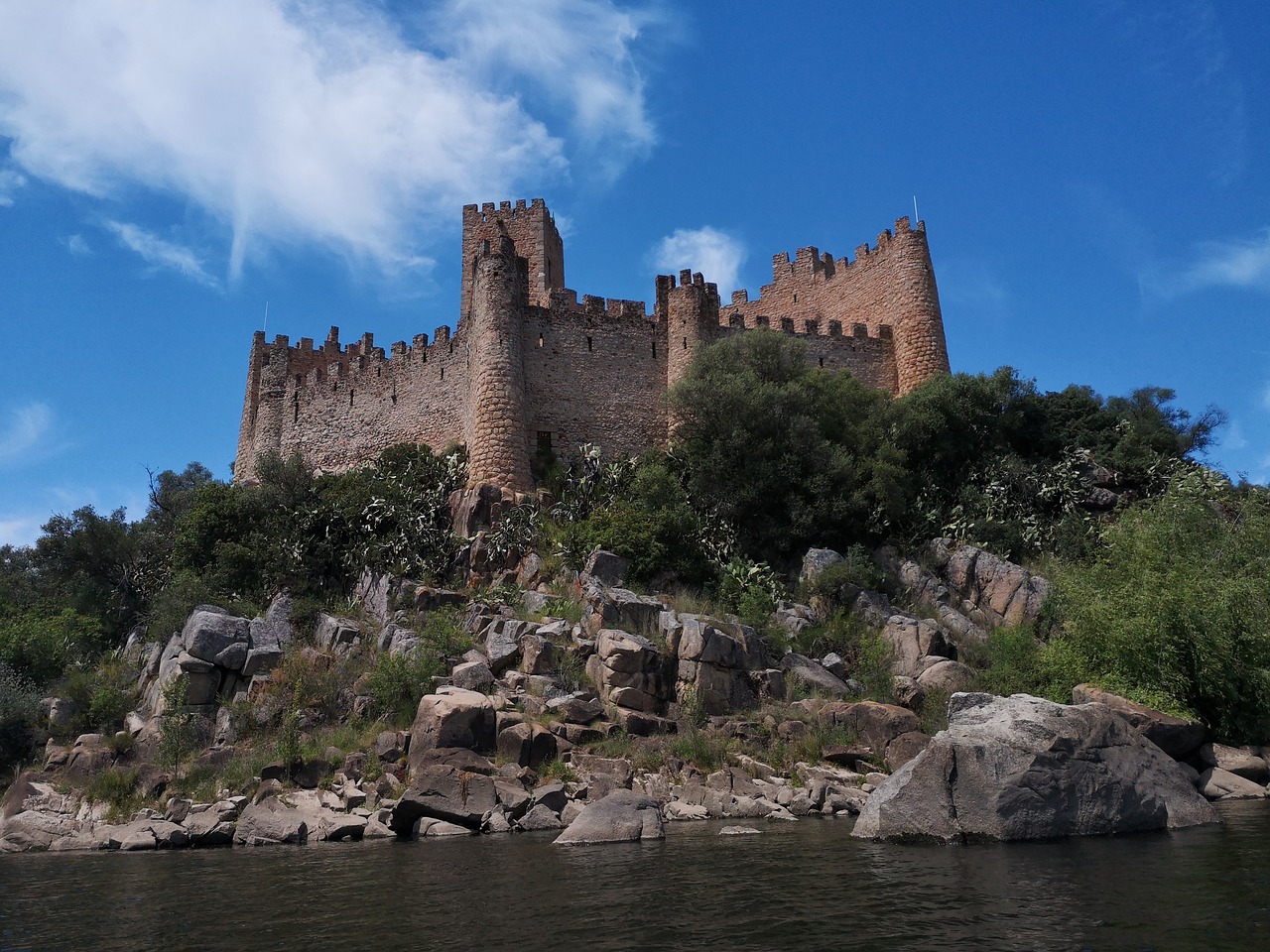 Photo: Luís Valverde
Castle of Almourol - Vila Nova da Barquinha - Santarém
About 1h30 from Lisbon
The Castle of Almourol stands on a small island in the Tagus River. It's probably the most romantic suggestion we've come across.
But unfortunately, since it is a medieval military fortification under the administration of the Portuguese Army, it will not be possible to hold a wedding ceremony inside.
But all is not lost. You can choose to perform the ceremony on a boat in the river, with the castle as a backdrop. There are more traditional and other more modern boats, but the capacity does not exceed 12 people. You can then go up to the castle, enjoy the view and take some photos like any tourist. It is important to note that travel and crossings on the Tagus River only take place if all the safety conditions are met.
Information: Tourist Office of Vila Nova da Barquinha +351 927228354 posto.turismo@welcome.to.pt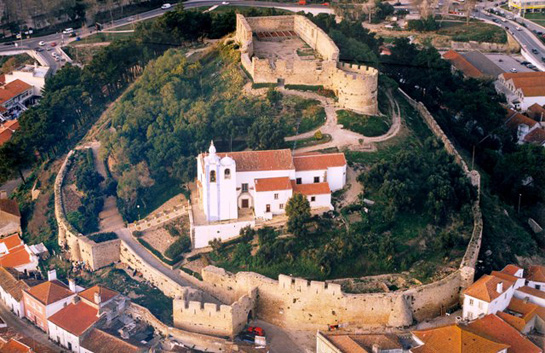 Photo: Torres Vedras Web
Castle of Torres Vedras - Torres Vedras - Lisbon
About 50 minutes from Lisbon
Do you want to fulfill your dream wedding ceremony in the castle of Torres Vedras? It is possible, but just like in most monuments, the visiting conditions and their schedules must be respected.
This castle, of primitive construction, went through several troubled periods, having played an important role in the defense campaign Linhas de Torres Vedras in the XIX century. It was a strategy created by Wellington to defend Lisbon from the third Napoleonic invasion. Within the walls of the castle there is the whitish Church of Santa Maria, and that is under the administration of the parish of Torres Vedras (paroquiatv@gmail.com).
To address the request for use of the spaces of the Castle, please contact the Mayor of the City by email geral@cm-tvedras.pt.
Extra: Municipal Museum Leonel Trindade - use of its cloister. This is an old convent, designated as convent and church of Grace, founded in the first half of the XVI century. It has a magnificent interior cloister, where it is possible to hold a wedding ceremony, only. There are no conditions to receive the catering. The authorization for the use of the space must be addressed to the mayor of Torres Vedras.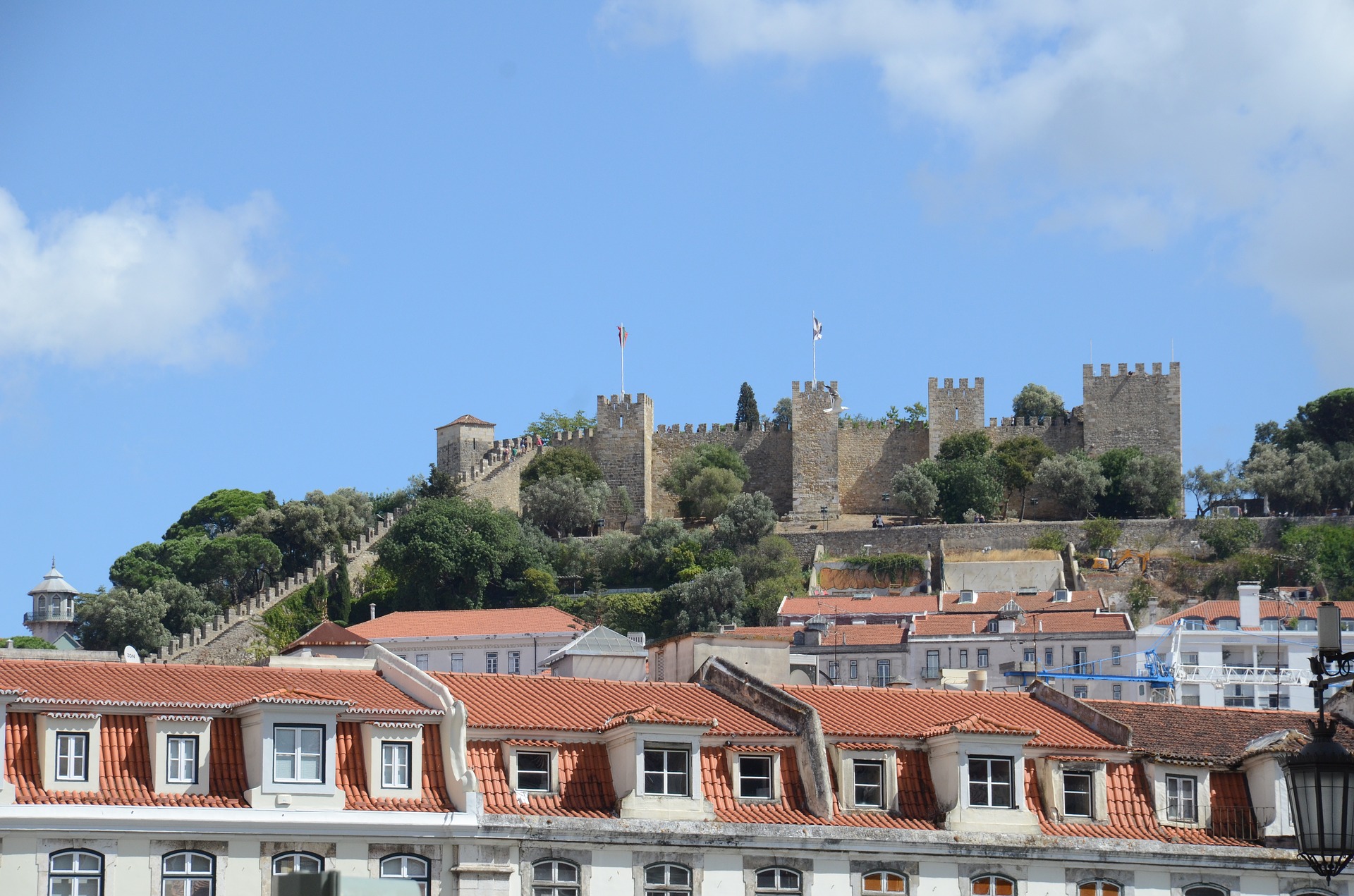 Photo: Júlia Orige
Castle of São Jorge
In the heart of Lisbon.
The Castle of São Jorge is located on one of the Lisbons hills, with a magnificent view over Lisbon and the Tagus River. You can take advantage of various venues for your wedding ceremony here, and they are available for rent.
Square of arms (Praça de Armas), castelejo - more intimate place, Terrace or Romantic Garden, for small outdoor events, are spaces full of charm and history to make your wedding dream ceremony. come true. In the ogival room, for up to 200 guests, a cocktail or prestigious dinner may be served.
Present your proposal and request more information about all the conditions for holding an event at Castelo de São Jorge, in Lisbon, by sending an email to info@castelodesaojorge.pt
Pay attention to one particular detail: the Castle does not have a car park and, in the surroundings, parking is not very easy.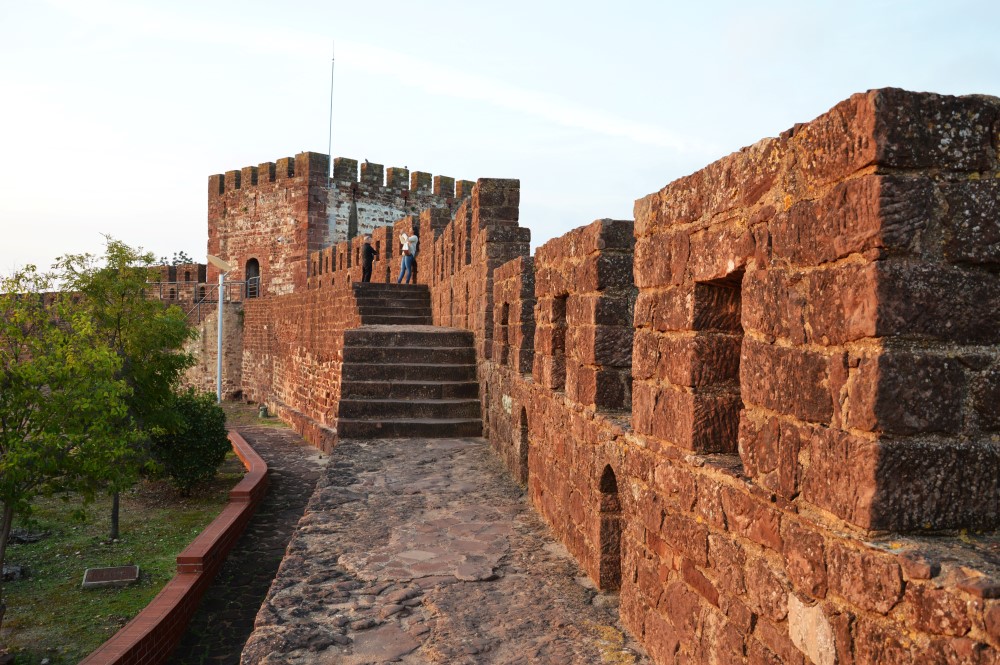 Photo: Sul Informação
Castle of Silves - Faro (Algarve)
250km from lisbon (2h44). At 47 min. from Faro.
Silves was once an important center of the southern part of the Iberian peninsula. Its castle is considered the largest castle in the Algarve region, of Islamic military architecture, which is in good condition. Its towers and walls, with reddish tones, define the limits of an interior area of enlarged size, with some garden spaces. Outside, around the castle, there are many houses.
If you intend to hold your wedding ceremony at this location, you should address your proposal to the email castelo[@]cm-silves.pt
See this aerial view over the castle:


Castles or historical venues that won't allow weddings
On the one hand, there are entities that manage some castles or historical venues available to analyze the proposals that couples want to submit; in the other hand, there are others that should not allow the organization of social, private events, such as weddings.
After doing some contacts, and those who peremptorily indicate that it is not possible to organize weddings in their venues, we will also list them here. However, as the rules of each space may change, if it is your great desire to do the wedding, or photo shoot, in a particular space, we advise you to contact anyway the managing entities.
Reguengos de Monsarraz Castle - Reguengos de Monsarraz, about 40 kms from Évora, Alentejo.
Note: The Reguengos de Monsarraz City Council, the managing entity, does not authorize the organization of private events and without public interest in the castle.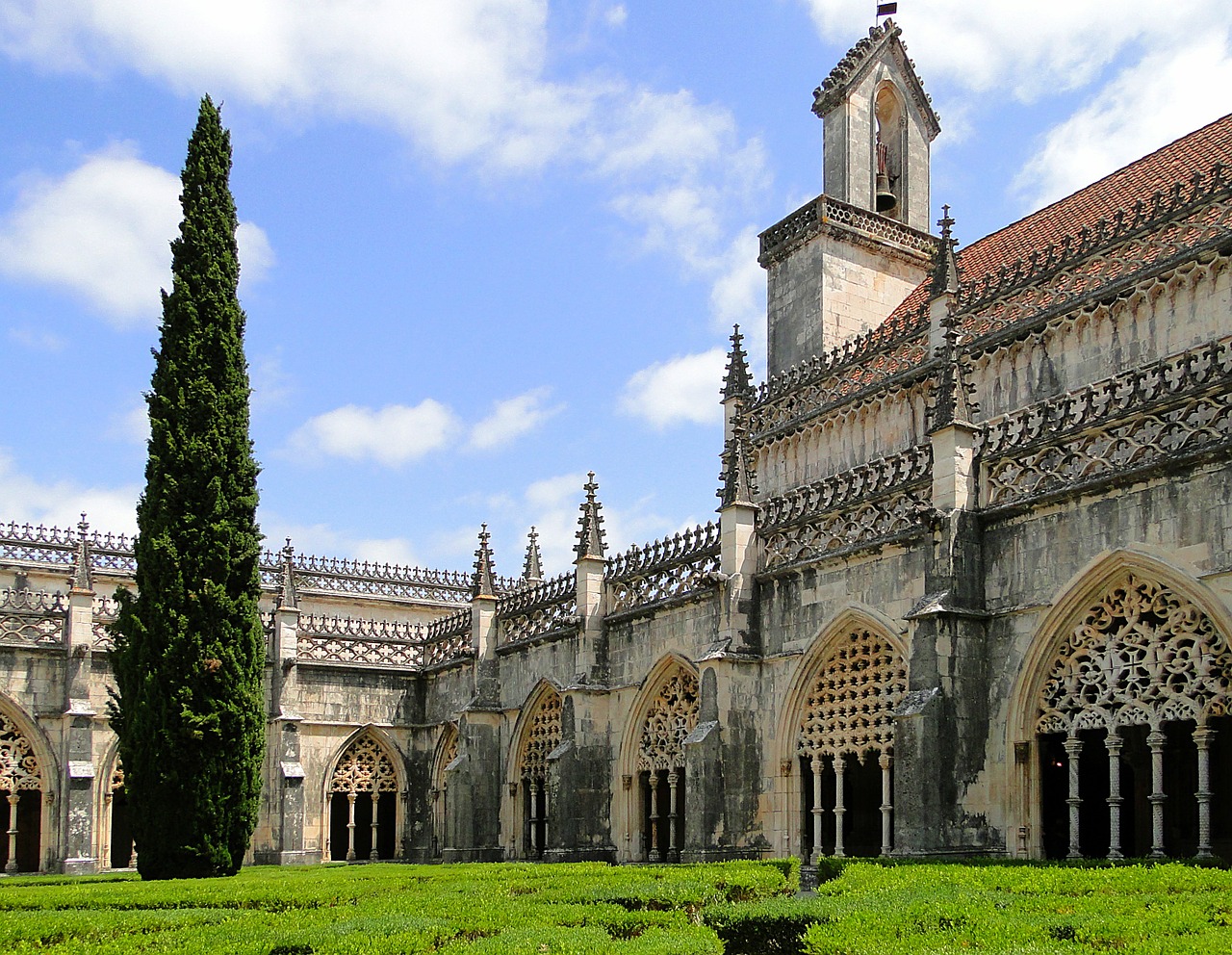 Photo: Mosteiro dos Jerónimos, Lisboa, por Bronisław Dróżka
Other national historic monuments
Convent of Christ in Tomar, Santarém
Monastery of Alcobaça, Leiria
Torre de Belém, Lisbon
National Palace of Ajuda, Lisbon
Jeronimos Monastery, Lisbon
National Pantheon in Lisbon,
National Palace of Mafra, among others,
These monuments, which belong to the Direção Geral do Património Cultural (Directorate General of Cultural Heritage), restrict the typology of external events that can be organized in these spaces: "Receptions, conferences, recitals of music or poetry, launching of books, solemn acts, cultural activities, exhibitions , promotional events to be analyzed on a case-by-case basis, provided that they are of greater interest to the equipment ", as can be read in the official documentation.
We have the indication that social events such as weddings are rarely approved. You can, however, submit your request, but we advise you to submit a detailed project and propose, eventually, schedule a meeting with the managers, given the social nature of weddings ceremonies.
If you think about organizing an elopment, more intimate, a ceremony only, who knows the project will be better received. It will always depend on the evaluation. Present your project as early as possible.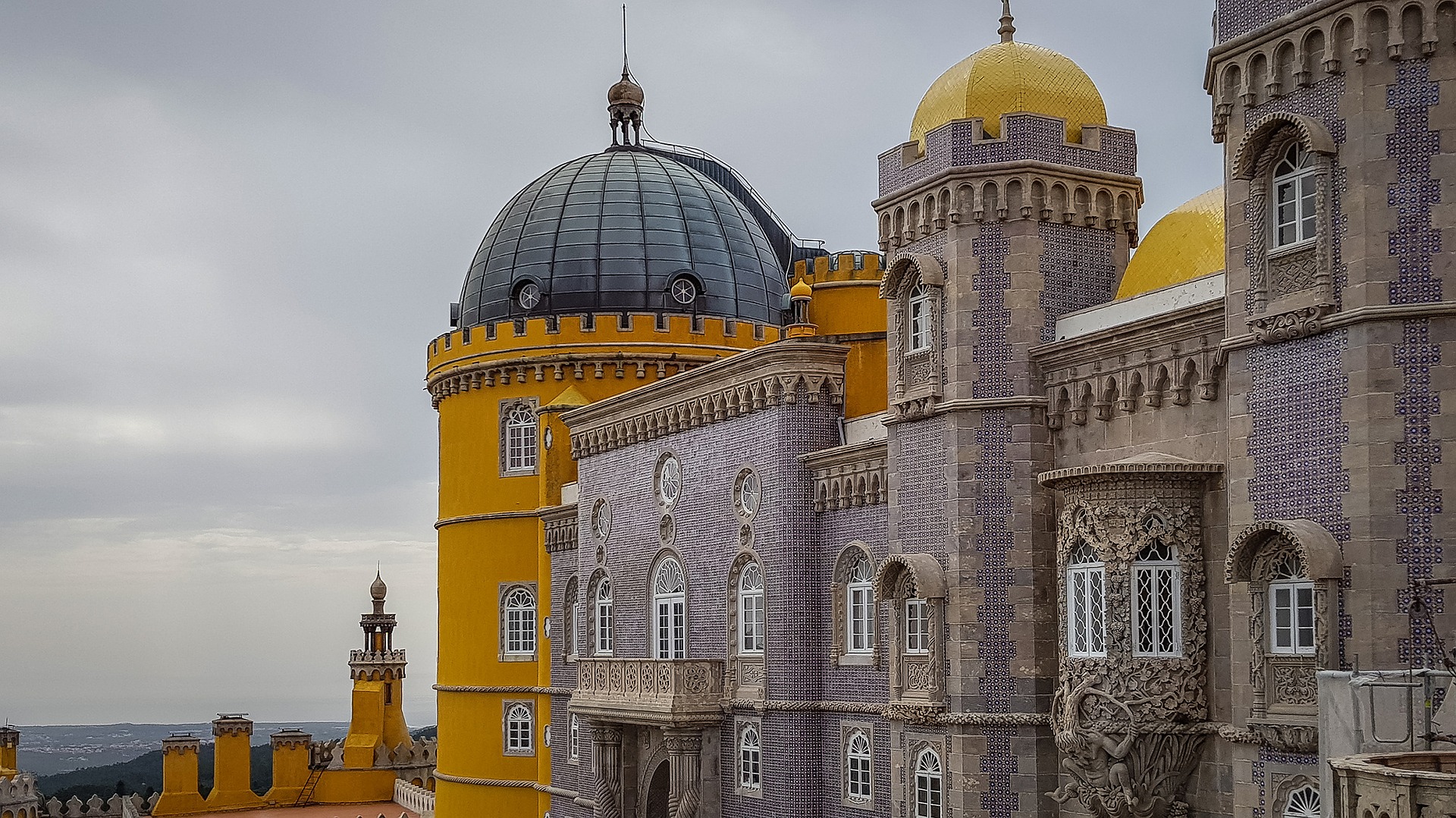 Photo: Palácio Nacional da Pena, Sintra, Portugal, por Walkerssk
Romantic Sintra
In romantic Sintra, these are the monuments available for events just about 30 minutes from Lisbon:
15 minutes from Lisbon, managed by the same company, and open for events:
National Palace of Queluz
Contact: info@parquesdesintra.pt

We are thankfull to all entities and persons representing them in clarifying the information requested by Bad Bad Maria.
This list will be permanently updated.
If you have feedback on these and other historic venues, share with us! Thanks