Do you want a celebrant at your wedding ceremony in Portugal?
April 1, 2019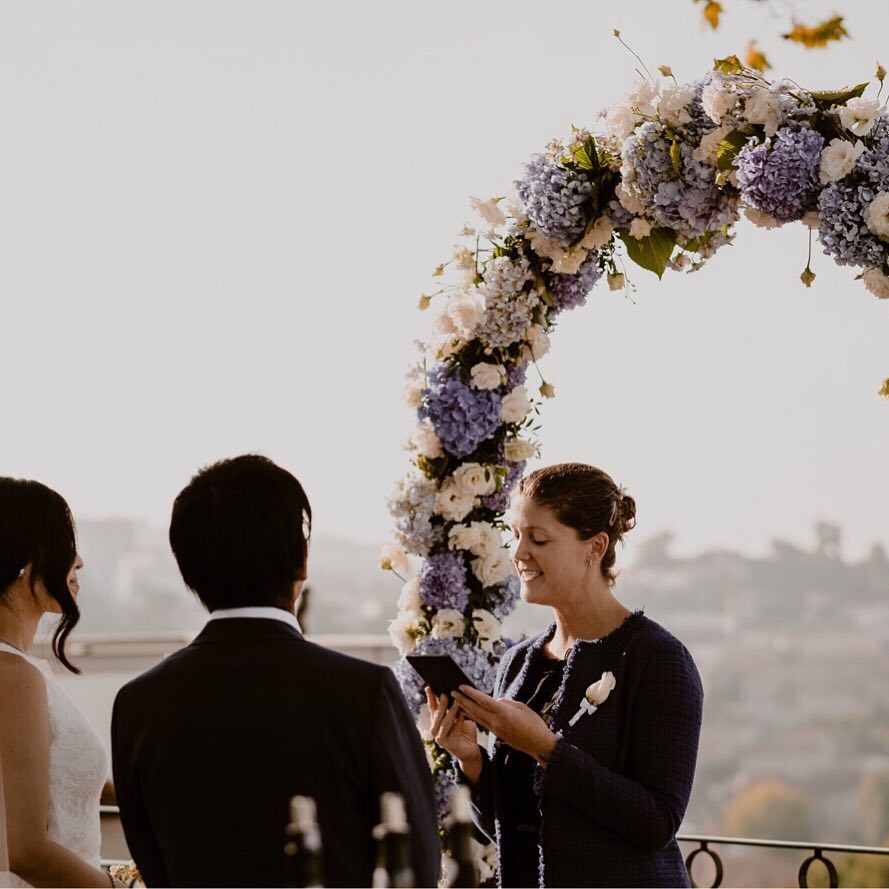 If your wedding ceremony will be personalized, intimate and given by a celebrant, do not worry, he/she will know what to do. There are many professionals with experience in celebrating weddings in a simple way or according to certain rituals in Portugal.
Start to visit our section of celebrants in the Bad Bad Maria directory.
What is the celebrant's role in your wedding in Portugal?
A celebrant will write the script, guide and leader your ceremony. But to be more personalized, he or she gathers lots of information.
The first step will be to meet the couple – it can be online, to know their love history and what are their desires for the big wedding day. The celebrant also talks to friends and family if possible to collect some details about the couple. From the conversations come unique ideas of how the groom or the bride wants to surprise their guests or the other half in such an important moment.
Then the celebrant can make suggestions, point out rituals and add potions of emotion to the spoken words of the wedding ceremony, surprising all and especially the couple.
Choosing a wedding celebrant, a government official or a priest?
The celebrant makes a speech more emotive and related to the history of the couple, than a government official or a priest of a certain religion. The later are governed by formal wordings used in any marriage repeatedly, without personalization, since they are celebrating a legal marriage contract. There are as well some internal rules within each religion, country or state specific laws, like the ones related with celebrating same-sex or divorcees weddings which may not be allowed.
And for a destination wedding it is much easier to perform a wedding ceremony by a celebrant, since you don't have legal procedings to follow. But if you want a legal marriage you have to contact a government official. Soon we will deliver more information about legal marriages.
If you want a personalized wedding ceremony, now you know that the celebrant can work together with you to create your truly wedding.
You can put your wedding ceremony in the hands of a celebrant! He/she may even have a part of the speech, or the whole, spoken in another language.
The celebrant will prepare a unique script for your ceremony, suitable to the venue where you will celebrate, even if it is in a hot air balloon. In Alentejo, Portugal, it is possible to have your ceremony in a hot air balloon. Contact a Portuguese wedding planner to arrange it for you.
Can the wedding be celebrated by friends?
It is your wedding, it is your day, so you are free to do what you really want to.
If you want to invite a friend to guide the wedding ceremony, which cannot be religious or held by the government official, you can do so. However, if your friend has no knowledge or experience on doing it, you'll have to give him/her a hand, which may take a little bit of your time and will take out from you the surprised factor. Besides adding a bit more stress to you.
If you feel confident with the option of choosing a friend to celebrate all your wedding, move on.
If you are not feeling very confident of having a friend guiding your wedding ceremony but want your friends to be part of it anyway, then challenge them to say some words in a different moment of your wedding, important and symbolic as well.
Can I have a celebrant and friends to be part of the ceremony?
Of course yes. Celebrant will prepare the wedding alignment and can integrate your friends in the ceremony and at the same time will guarantee that everything runs smoothly. The celebrant will be there and your friends too.
Is it possible to have a religious or legal ceremony with a celebrant as well?
In our opinion, it is possible, in one hand, to have a more formal ceremony with a priest or a government official; and in the other hand a more personalized one, in the cocktail venue for instance. It could be a more intimate moment.
But remember: the wedding day is only one day. Having several ceremonies can become tiring for everyone. Get advise from your wedding planner.