Hot air ballon destination wedding in Portugal
July 9, 2019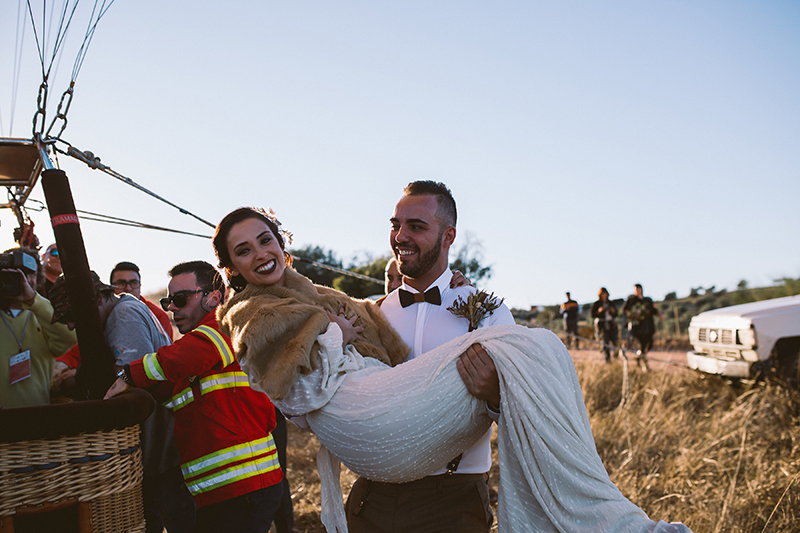 Wedding in a hot air balloon in Portugal
Getting married in a hot air balloon is possible in Portugal. It is possible, it is exquisite and it is memorable. Bad Bad Maria organized the wedding of Marta and Edi in a hot air balloon in Portugal. This wedding was organized during the International Festival of Hot Air Balloons, in Fronteira, Portalegre, Alentejo (Portugal). The event offers an immense landscape colored by several balloons in the air. Everything is magical.
Exciting Wedding Ceremony
Anxiety is s always an ingredient of a wedding ceremony. Now join the adrenaline of getting into a balloon, rise into the sky only guided by the wind. After de first part of the ceremony celebrated on the ground, the ceremony followed inside the balloon. The exchange of vows and rings, the feelings and emotions involved reached the climax above the sky, with nature as a witness. Check the photo gallery of Barbara Araújo Photography.
Intimate wedding party with closest family
It was a very intimate ceremony and wedding party with the closest family. They were at the first part of the ceremony on land and in the cocktail at Monte Barrão. After that first part held by the celebrant next to the balloon, the love vows exchange followed. In that balloon basket were the couple, the celebrant, the photographer and, of course, the balloon driver. The Bad Bad Maria founder, Cátia Silva, gathered several suppliers who grabbed this challenge to organize, decorate and register the destination wedding of Marta and Edi.
Marta and Edi, and their wonderful family, returned to the same place where they were happy, in the Alentejo. You can follow this adventure(PT) and others told by Marta in her blog Birras em Direto(PT).
You want to have your destination wedding in a hot air balloon in Portugal?
You can get married at any time of the year, depending on the weather, but it is also possible to perform your wedding ceremony during the International Hot Air Balloon Festival from November 5 to 11, 2019.
Do an intimate wedding ceremony, or join your guests to have a blast. It's up to you!
Either way, it will be memorable and fun for everyone!


Credits

Production - Bad Bad Maria
Celebrant - Your European Celebrant
Wedding Planner - Cátia Silva Weddings
Decoration and styling - Cátia Silva Weddings
Photography - Bárbara Araújo Photography
Dress - Rute Moreda para Manuela Noivas
Toucado - Rutehandmade
Jewellery - Casa do Canto
Floral Design - Decorelle
Cake - Migalha Doce
Invitation - Levado à letra
Escort cards, menus, cake topper, welcome sign - In Love Unique Weddings Design
Hot Air Balloon - Publibalão
Make Up - Silvia Make Up
Venue - Monte Barrão Moments